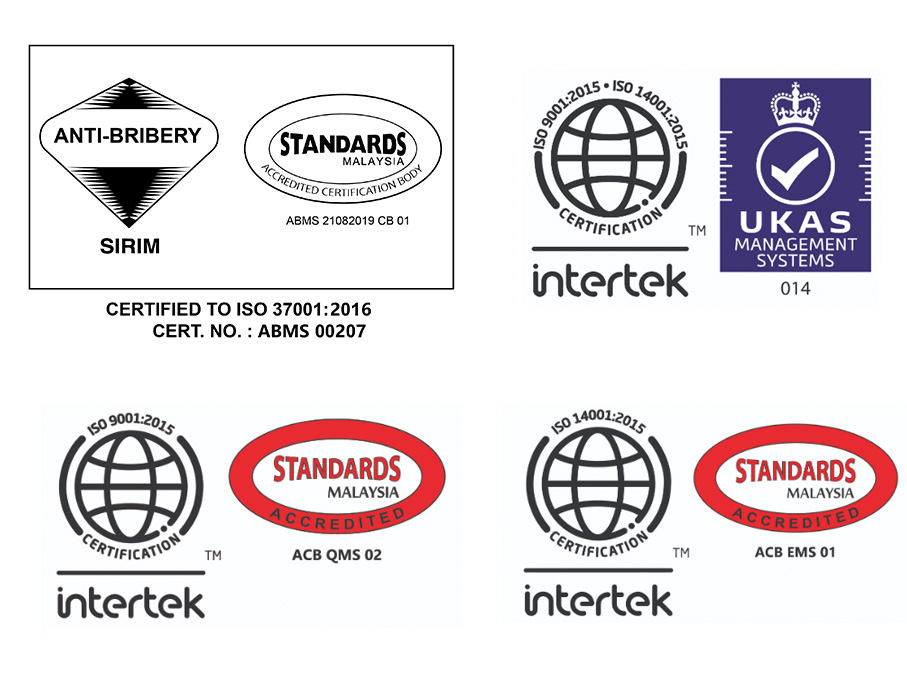 Recognitions
GDEX Berhad (including GD Express Sdn Bhd, GD Logistics (M) Sdn Bhd and GD Venture (M) Sdn Bhd obtained ISO 37001:2016, MS ISO 37001:2016 Anti-Bribery Management System certified by Sirim QAS International Sdn Bhd on 3 August 2021.
GDEX Berhad and the above Subsidiaries has implemented and maintains an ANTI-BRIBERY MANAGEMENT SYSTEM for the provision of Express & Customised Logistics Solutions, Logistics & Warehouse Services and Fleet & Transport Services which fulfills the requirements of both ISO 37001:2016 and MS ISO 37001:2016 Standards.
In 2012, GD Express obtained ISO 14001:2004 certification for Environmental Management System (EMS). The achievement marks a milestone in GD Express ongoing commitment to protect and conserve the environment. Both systems were integrated as Quality and Environmental Management System to facilitate operations procedures complying with two international standards.
The Environmental Management System was further upgraded to ISO 14001:2015 on 16 November 2016.
GD Express obtained ISO 9001:2000 certification on 8 Nov 2003 from Moody International Certification (Malaysia) Sdn. Bhd. GD Express is proud to be the first domestic express carrier company in Malaysia to achieve ISO status and this is a testimony to the quality processes that the Company has put in place over the last few years.
The Quality Management System was further upgraded to ISO 9001:2015 on 16 November 2016.